Parents
Student Registration
Title 1
As a parent or guardian of a student attending a school that is receiving Federal Title 1 dollars, you have the right to know the professional qualifications of the teacher(s) and instructional paraprofessional(s) who instruct your child. Please click below for that information.
Parent & Family Engagement Policy
8360 Rhawnhurst FY20-21 – PFEP
School Registration
Registration for K-12 students resumes on Monday, August 17th. There will be four options to complete registration: online, by phone, in-person appointment, contactless drop-box.   Register online here, by phone by calling your child's school and speaking with a school secretary, or in person by appointment only at the Education Center (440 N. Broad St.) on Tuesdays and Thursdays from 10 a.m. to 2 p.m. To schedule an in-person appointment, or submit additional questions, please email osep@philasd.org.
2020-2021 Registration Information: 
Parents/Guardians registration is available Monday through Thursday from 9:00 a.m.-11:00 a.m. Please bring the following documents for registration:
Parent/Legal Guardian must provide photo Identification (examples: Current PA Drivers License/Non-Drivers License or valid Federal, State or Municipal employment identification, Passport).
Proof of Residency (examples: Deed, Original Rental Agreement/Lease (must be typed, signed by all parties and notarized), Current Voter Registration Card, Current Utility Bill, (e.g. PECO, PGW), Foster care and DHS letters are also acceptable for registration when student is in the care of a Foster/child care agency.
Proof of your child's age. Acceptable proof includes birth, baptismal or other religious certificates, a passport or immigration documents.
Your child's Health Appraisal Forms and immunization records showing proof of the following inoculations: Diphtheria, Tetanus, Poliomyelitis, Measles, Mumps, Rubella (German measles), Hepatitis B, and Varicella (chickenpox).
Your child's most recent report card and any other useful information (IEP, etc.) from the child's former school or school district.
NURSE'S NEWS
Welcome back Rawnhurst Families!
From the Health Office:
Welcome back students and families to the 2020-2021 school year! We are excited to welcome and support students as they begin and continue their educational journeys with us! The Rawnhurst team remains dedicated to academic excellence, student health and safety, and innovative practices to foster academic success virtually during these unprecedented times.
School Nurse
Colleen Greevy: Rawnhurst
School Nurse
We hope that students and families are staying healthy and safe during this time! Please be sure to make necessary appointments for your child's physical and dental exams, as well as keeping up to date with their immunizations record. Students that require medications in school, will need the forms below to be completed and up to date annually.
OFFICE HOURS: Currently CLOSED
Parent & Family Portal
The School District of Philadelphia's Parent & Family Portal gives you access to valuable information about your child's education and school. Click below to learn more:
https://www.philasd.org/face/family-resources/parent-and-family-portal/
Rhawnhust School Handbook
The Rhawnhurst Elementary School Handbook sets forth general guidelines for parents/guardians and students enrolled at Rhawnhurst Elementary School. Rhawnhurst school guidelines will be available for you to view at any time. A copy of this handbook will be available in the office and will be updated regularly.
LOGIN to the Parent Portal:
https://sso.philasd.org/cas/login
VOLUNTEER REQUIREMENTS:
Thank you for your interest in volunteering in the School District of Philadelphia! All adults wishing to volunteer in a public school will need to complete the Volunteer Packet – five documents that are made up of state-required clearances, a Volunteer Code of Conduct, and a Certificate of Volunteer Orientation Completion. Click here to begin the process or use the link below:
https://www.philasd.org/face/volunteer/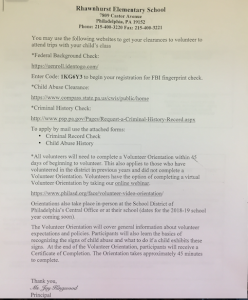 Family Academy: Courses and Training (FACT)